Made for the Gulf South
When it comes to choosing replacement windows for your home that can withstand the challenges of our Gulf Coast climate, while providing exceptional energy efficiency, LAS WeatherGard II Vinyl Windows are the ideal choice. These windows are more than just your average window; they represent the perfect blend of cutting-edge technology, custom craftsmanship, and top-notch materials.
LAS WeatherGard II Vinyl Windows are strong and durable. They are made from high-quality vinyl and reinforced with steel. The use of virgin vinyl ensures that the windows are strong and resilient, capable of enduring the harshest weather conditions without compromising their structural integrity. The added reinforcement of steel enhances their sturdiness, providing you with the peace of mind that your windows are built to stand the test of time.
Vinyl Window Features
WeatherGard II Vinyl Windows are highly energy efficient and have earned the prestigious ENERGY STAR™ certification. By incorporating advanced Low E-Glass technology, these windows effectively reflect heat back into your home during colder months and block excessive heat during warmer seasons. The result is a more stable indoor temperature year-round, reducing the strain on your HVAC system and leading to potential energy savings.
WeatherGard II Vinyl Windows are argon gas-filled, enhancing their thermal performance even further. Argon gas reduces heat transfer, making your home more comfortable and energy efficient with its low thermal conductivity.
Customization is at the core of LAS WeatherGard II Vinyl Windows. Each window is custom-built and double-paned to ensure a precise fit for your home. LAS meticulously takes measurements to ensure that they manufacture your windows with 1/8 of an inch accuracy, leaving no room for errors. This personalized approach guarantees that your replacement windows seamlessly integrate into your home's existing architecture, enhancing its overall curb appeal.
The custom design process allows you to explore various options for your windows, including the choice of tempered and obscured glass. This feature not only adds an extra layer of security but also allows you to achieve the level of privacy you desire without compromising on natural light.
In addition to their impressive performance and energy efficiency, WeatherGard II Vinyl Windows offer several other features that elevate their value. If you live in a noisy neighborhood or near busy streets, you'll appreciate the exterior noise reduction capabilities of these windows. Enjoy a peaceful and serene living space, shielded from the distractions of the outside world.
Safety is paramount, and LAS understands this well. WeatherGard II Vinyl Windows are equipped with premium safety locks, providing you with the assurance that your home and loved ones are secure. The inclusion of double ventilation latches gives you control over the amount of airflow, allowing you to enjoy a refreshing breeze while keeping your windows safely locked.
WeatherGard II Vinyl Windows have impressive Design Pressure (DP) ratings. These ratings range from DP-40 to DP-85. The specific rating depends on the window style and size.
The ratings indicate the windows' ability to withstand varying wind speeds. This makes them a suitable choice for homes located in hurricane-prone regions.
The LAS Difference
LAS's commitment to excellence extends beyond manufacturing, we also take pride in our professional installation services. When you choose LAS, you're not only getting high-quality windows but also a team of skilled installers who ensure that your windows are fitted securely and efficiently. The result is a flawless finish that not only enhances the aesthetic appeal of your home but also improves its overall energy efficiency.
In conclusion, LAS WeatherGard II Vinyl Windows embody the perfect combination of performance, energy efficiency, and customization. With their durable construction, energy-saving features, and precision fit, these windows are guaranteed to elevate your home to new levels of comfort and aesthetic appeal. Trust LAS's expertise in custom manufacturing and installation and experience the transformative power of WeatherGard II Vinyl Windows in your home.
Let's Get Started
Don't wait any longer to upgrade your home with these exceptional windows. Contact LAS today to request your free estimate and take the first step toward a more energy-efficient, secure, and beautiful home.
With LAS, you can be confident that you're investing in the best for your home and your family's well-being.
LAS custom manufactures vinyl replacement windows within 1/8 of an inch to ensure the perfect fit for your home.
LAS custom manufactures vinyl replacement windows.
LAS custom manufactures and installs replacement windows.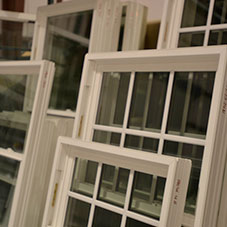 Call LAS for a quote on replacement windows for your home today.