In the colder months we are reminded how important it is to have an energy efficient home. But no matter what the season, old windows will never keep your air inside. Homes without energy efficient windows pay higher bills for heat and air conditioning and are uncomfortable all year round.  Isn't it time to put an end to those old, leaky windows and your wasted money? Investing in LAS's energy efficient windows is one of the best home improvements you can make, creating immediate comfort and a great return on your investment.
Literally 25% of all the energy used for heating and cooling is lost with leaky windows. LAS WeatherGard windows add immense value to any home in terms of comfort, resilience, and energy savings. Our WeatherGard windows provide a blanket of insulation for your home by keeping the heat outside and restricting condensation around your window units.  They not only maintain a temperate environment on a daily basis, they also reduce your heating and cooling costs in the long term. At LAS, our custom manufactured windows are made to fit perfectly, within 1/8" of the measurement specifications, allowing for the highest possible energy efficiency, in addition to maximizing comfort and beauty of your home.
In addition to providing the benefits of the most energy efficient and high performing windows in the nation, LAS' WeatherGard II & III offer the added benefits of impact resistance, noise reduction, and security.
Not all custom manufactured windows are created equal. LAS WeatherGard Windows are the best in the industry because they are Energy Star rated with a triple coating of Low E glass. providing a double layer of insulation for maximum energy efficiency.
DOUBLE HUNG WINDOWS
If you are in the market for new, energy-efficient windows and are looking for a versatile yet timeless window, our Double Hung Windows are a great choice. Our windows are extremely durable and built to last. LAS windows are engineered to make your home more comfortable, energy efficient and decrease your energy costs. Our Double Hung Windows are not only Energy Star approved to save you energy and keep you warm this winter, they are convenient!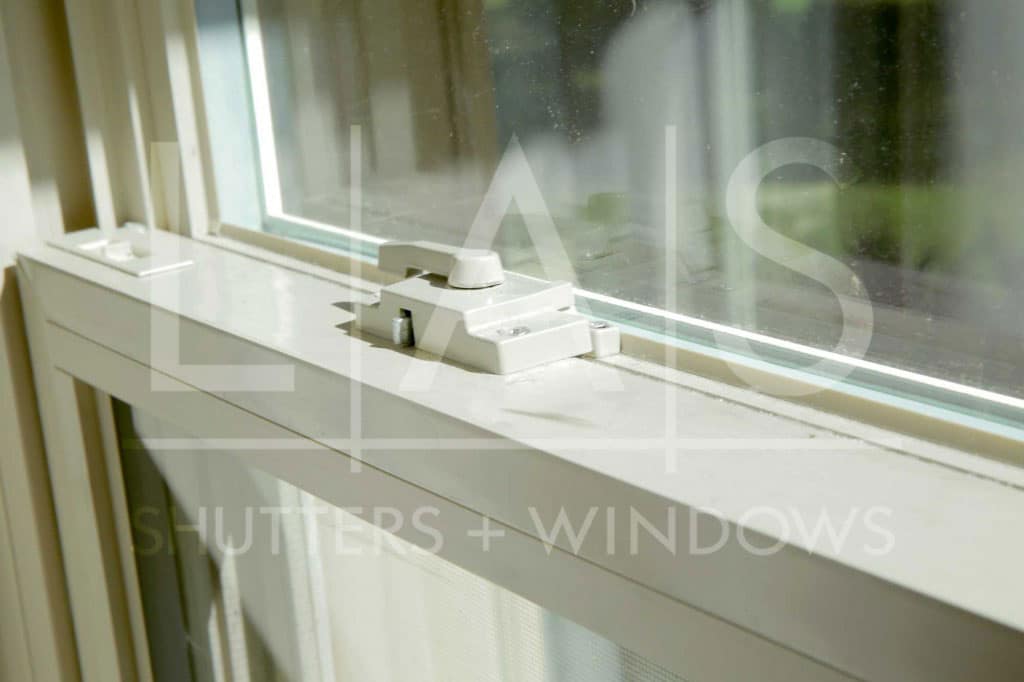 Because they operate by sliding up and down, our double hung windows are easy to maintain. The upper and lower panes also tilt in for safe and easy cleaning. Our Double Hung Windows are Energy Star approved to save you energy and keep you warm this winter.
INSTALLATION AND WARRANTY
While it is crucial that you do your homework and choose a window that is high quality and energy efficient it's also extremely important to choose a company that excels at window installation. At LAS, our window installation team goes through extensive training before they start installing windows. They are trained to make sure every single customer gets an airtight window installation that will save them energy every month. At LAS, we know that correctly installing your windows or shutters is the most important thing we can do to provide our customers with peace of mind. We stand behind our manufactured products, offering the best labor warranty available. Read more about the LAS Warranty here.
THE LAS DIFFERENCE
At LAS, we are extremely proud of our reputation as one of the trusted leaders in the home improvement industry. We pay attention to Energy Star standards and at LAS, we offer a wider range of commercial and residential low-emissivity windows that lead the industry in outstanding energy efficiency while preserving aesthetic standards. LAS Windows exceed the strictest standards required for the ENERGY STAR™ designation to keep your home well-insulated and energy efficient. We only put our name on the highest quality energy efficient windows and we also offer fair and honest prices. Not only will not only get the highest quality home windows with us, you will get a top-notch and energy efficient installation.
See Other Home Improvement Posts